where are you Weezy?
12:06 AM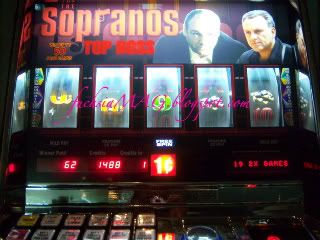 ever been to Foxwoods in CT? well I was there on 6th and 7th of this month. It was my first time going to a gambling scene and i enjoyed it a lot... my Primemark purse, not so much. The Sopranos penny slot machine was my frienemy. At one point I'd be winning a lot... then it was all gone. However, the most exciting part of being in CT was finding out that kanYe West was performing on the 7th at the MGM Grand next door. the casinos/hotels are set up in a way that you don't have to go outside to bounce around. so after lunch me and my crew (by crew i mean my mom and grandparents) strolled over to the MGM to catch a quick glimpse. we found the theater but the doors were locked. I peeped in through the cracks and saw the GITD tees stacked on the floor. I knew my chances of running into anyone from the show was very slim. But it was cool knowing that I was in the same building with THE MAN.
ps.
if i was between the ages of (18-22) I would've found out where he was lol.